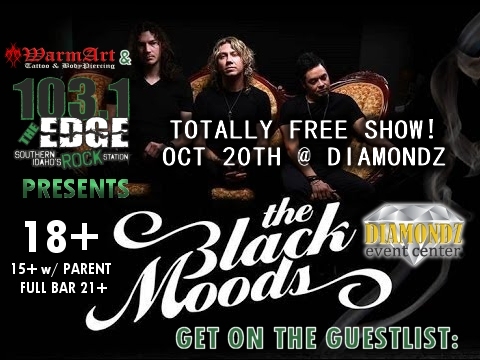 103.1 The Edge, Diamondz Event Center and Warm Art Tattoo & Body Piercing are giving you ANOTHER chance to rock the hell out FOR FREE!  The Black Moods are at Diamondz Saturday, October 20th, and if you wanna go to the show, just fill in this info and you're on the list!  Entry is limited to the first 250 freaks, and you MUST be on the guest list to get in.  If you're bringing a friend, say "YES!" to the +1 question so we know to put you down for a PAIR of tickets (also free - but please, because there's a capacity limit, ONLY select the extra ticket if you know you're bringing someone).  Then, the morning of the show, we'll pick 6 people randomly from the guestlist - and each person will score a V.I.P. table for them and their friends PLUS Diamondz will hook you and your peeps up with a pitcher of domestic beer (or soda if you're under 21) to kick off the night!  Get on the list now!  You must be at least 18 years of age or older to go to the show, or 15 years of age or older if you're coming with a parent or guardian.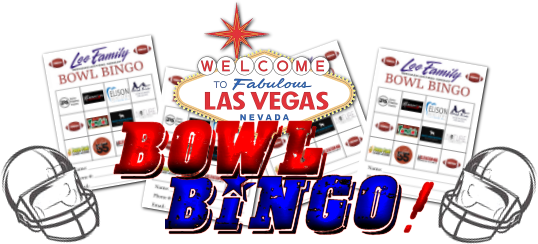 Hey… wanna play Bingo? This ain't grandma's bingo! It's 103.1 The Edge's Bowl Bingo and your chance to win a trip for two to Las Vegas for college football's Las Vegas Bowl!
We've teamed up with fifty-five Windbreak, Boise Rigging Supply, Nature Nursery, Mad River Laser, Canyon Sporting Goods, Power Plant, Tomato's, Elison Dentistry, Elevation four eighty-six and Dutch Goat to give you the chance to WIN big!
Here's how to play: Grab your Bowl Bingo card from any of our sponsors or download and print your card by clicking here. Then visit each sponsor location to collect stickers. Every sponsor will instantly hook you up with a prize. Collect at least five Bowl Bingo stickers and you're qualified to win the trip to Las Vegas!  Collect all NINE Bingo Bowl stickers and you're qualified to win the trip five times over!
Pick up your Bowl Bingo card and stickers at:
Dutch Goat
Elevation 486
Elison Dentistry
Power Plant
Tomato's
Canyon Sporting Goods
Mad River Laser
Nature Nursery
Boise Rigging Supply
Fifty-five Windbreak
Grab your Bowl Bingo cards and get playing! We'll give away the trip to Vegas on October 27. No purchase necessary. Must be at least 21 to play and win.